The Boys of Breaking Benjamin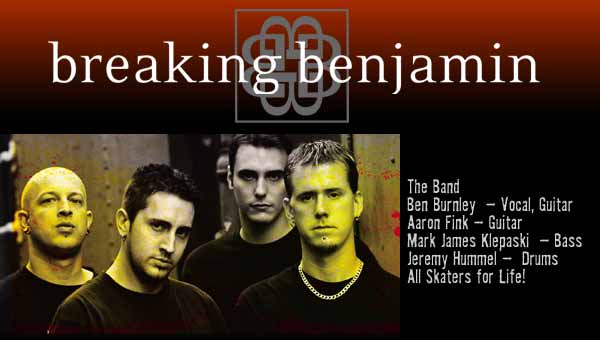 Fink and Burnley clicked right away, as they were sitting in room jamming and listening to eachother. It is said to be one of the greatest feelings in the world to be part of something so perfect and so sacred that it seems mundane.

The boys have known eachother for many years and believed that a band of the four of them would be awesome. This lead to two of the members leaving an already famous band, Lifer, to join Breaking Benjamin.

One member of the band said "It's like falling in love: you don't question it, you go with it because it feels right, we're family."

One listen to Saturate, Breaking Benjamin's explosive Hollywood Records debut, and Fink and Klepaski's move makes perfect sense. Uncompromising, cathartic and from the gut, the Ulrich Wild-produced (Deftones, Powerman 5000, Static X) album reveals a band with hard smarts, a keen sense of pop savvy, and influences that include Tool, Nirvana and Korn. Laughs Burnley, Benjamin's refreshingly candid main songwriter, "I find that music works best when you take a bunch of your favorite bands and rip a little something off each one to make something new. It works for us."

Many of the band's music is considered melodic and intising as some other tracks like "Polyamorous" is a more hard song with the singing styles of Burnley. The band has been compared to such acts as Tool and Three Doors Down, Nirvana and Korn as also included in the comparsion of this band, Breaking Benjamin.

Fans appreciate the positive messages that Breaking Benjamin sends out, compared to the normal depressing wanna kill yourself kind of crap that is on the radio currently. They make you wanna get up and do something about your shitty life instead of sit there and let it kill you or mope about how it could be better.

Breaking Benjamin's fervent followers is "DJ Freddie" (Freddie Fabbri), an on-air personality at 93.7X WBSX, a modern rock station in the band's hometown of Wilkes-Barre, Pennsylvania. In addition to putting "Polyamorous" in rotation, where it quickly became the station's number one most requested track, Freddie then decided to give the band funding for their 5 song self-titled EP-a disc which sold 2000 copies locally.

The band signed to Hollywood records after getting tons of local air play, and selling out to packed house crowds. They decided to put on a two night show case where many record labels showed interest in signing them. However the band chose Hollywood Records, which is the best move they could have made.

It was clear from the age of 14, that Ben Burnley was going to be a rock legend after teaching himself how to play guitar, while listening and mimicking Nirvana.

"It wasn't all that long ago that I survived by playing cover songs in coffeehouses for scraps. I was like an acoustic jukebox, playing for people that ignored me while they ate and drank. It totally sucked. You eventually get to this point where you really want to be signed and make something happen, but you get so frustrated from all the bullshit, that you just don't give a fuck anymore. But of course, that's when you get signed. Now I wake up every day and can't believe it's finally happening, and that we get to do this for a living. Talk about a dream come true", said Ben Burnley about getting signed.

Some information and quotes were taking from an interview published by: http://www.sing365.com/music/lyric.nsf/Breaking-Benjamin-Biography